What is the reason for writing this article? Well, when started WordPress development, I got confused between wordpress.org and wordpress.com. It's not just me, most of the beginners get confused between them. That's why I am writing this article to get your confusion cleared and become more professional. While the main difference between them is just that  wordpress.org is a self-hosted platform and wordpress.com is hosted platform.
Let's get started comparing both services.
Comparison between WP.org and WP.com
To get better understanding of this article, let's first know the features of WP.com and WP.org separately.
WordPress.com
WordPress.com is a hosting service for blog and content management.
WordPress.com is a platform for website creation. WordPress.com is owned and operated by Automattic. Automattic is a San Francisco-based company that operates WordPress.com. WordPress.com is the leading provider of free content management and blogging software to a global community of more than 60 million unique visitors. WordPress is the top free content management and blogging software, in use by an estimated 30% of the Internet's population, or approximately 1.7 billion people.
WordPress.com's hosting includes themes and other CMS functionality to get you up and running with your blog quickly. You get a package of the best open source CMS, themes, custom plugins, content management, and is 100% compatible with free themes on ThemeForest. This package includes shared hosting at an easy-to-use web-hosting website. Hosting includes unlimited disk space, bandwidth, email accounts, FTP access, and many other benefits.
Pros of WordPress.com
When considering how you should manage the growing aspects of your company website, your hosting provider is likely to be the number one choice. When it comes to WordPress.com, we're looking to give our customers that WordPress user experience, with the cost and data saving benefits that WordPress.com has to offer.
Let's take a look at the advantages of WordPress.com for small to medium businesses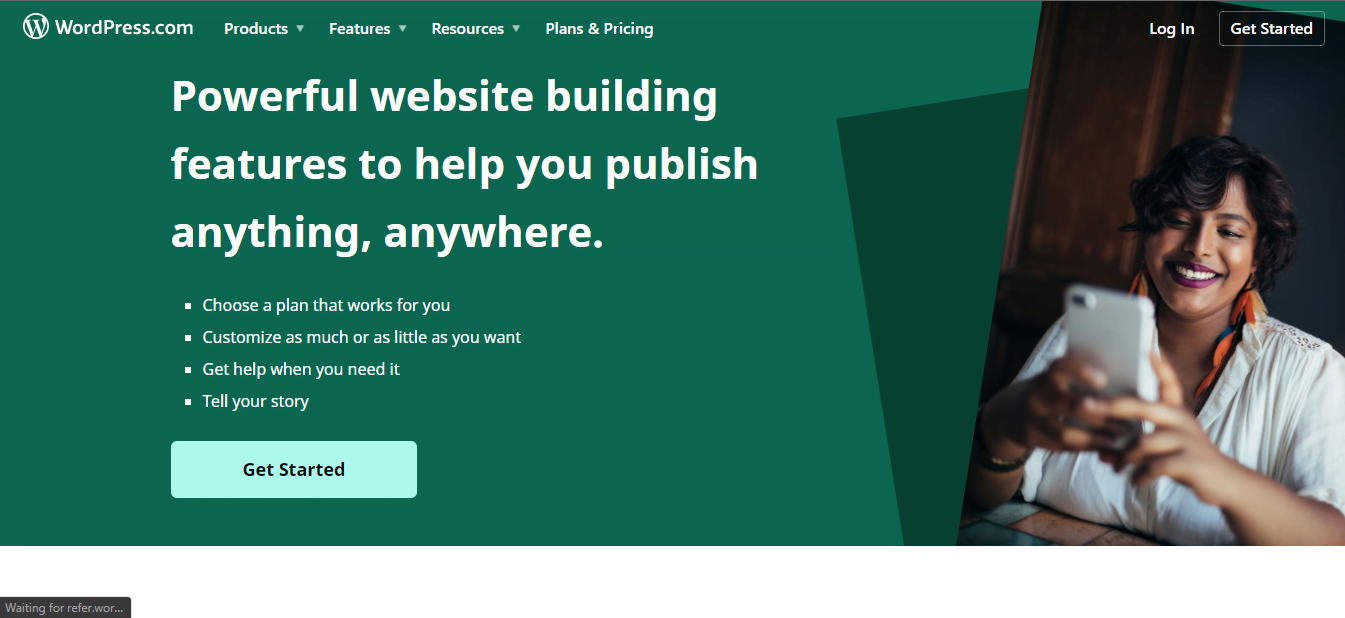 The easy to use and intuitive interface will be second nature for everyone. The only requirement is a domain, a website URL to sell your products on, and a domain for your WordPress website.
More functionality than most other providers
You'll be able to access a wide range of features through your WordPress.com account including:
You have total control over how your WordPress.com website is displayed, which includes adding widgets, creating custom layouts, including ad-blocker support and filtering website traffic.
It's easy to secure your website through dedicated security tools, including full firewall and email encryption.
Custom and business profile
Integration of your company profile including social media, record keeping, customer communications and tasks for management.
Support is available through 24/7 support available online, by phone or chat.
If you'd like to add products to your site or manage users, a WordPress.com hosted website can be a good option. Setting up an eCommerce store is quick and easy to implement.
Since WordPress.com servers are hosted in their data centers, they are automatically monitored by server monitoring and alarm-provider Server Density. If there is anything wrong with your server, an alert will be generated. There are free plugins for many popular CMSs (not just WordPress) that enable you to monitor your server in this way. If you don't use any such plugins, you can set up Google Alerts to monitor your server (as well as any other servers on your network).
Expanded, for-pay support
In the official WordPress documentation, they state that if you buy a WordPress.com domain, you get unlimited live support from a dedicated customer support team. They call this support "professional". In my experience, this support is excellent, and you get excellent support for a reasonable price.
Pro tip: If you are not used to paying for support, you should spend a few days on WordPress.com and try to work out whether you feel comfortable with the support that they offer. If you feel comfortable, then use that support. If you don't feel comfortable, don't use the service.
The support that you get when you buy a domain from WordPress.com is often the same as that you get when you buy one from a WordPress.com reseller.
Ability to sell domain names
The official WordPress.com website includes a feature that allows you to buy domain names. You can either buy the name in the usual way (which is simply paying a monthly sum), or you can buy a domain name for a set period, say for one year, at a special rate. If you are not interested in buying a domain for a short period, then you can buy the domain for a set period, say for one year.
What makes WordPress.com so appealing is the fact that they are offering unlimited web hosting. Yes, you read that right, they are offering an unlimited amount of web hosting. You can buy one year of web hosting, or you can buy a full year. You can then use the services of either WordPress.com or any other hosting company that you prefer. They have plenty of data to back this up, and I would recommend you give the hosting option a try.
You can use WordPress.com's Jetpack to design your custom templates. When you are done designing your template, you can publish it to the WordPress.com marketplace, where it will then be available for anyone to download and use. There are also other CMSs available to buy. However, if you are just getting started with a project (e.g. creating a blog), then you might find this very useful.
The WordPress.com documentation is very good, and you can find the most important information in the guide that accompanies the website. The API documentation is also well done, although it is not always as up-to-date as the site guides. That said, I have only had one problem with the documentation, and it was a minor problem that I corrected myself. In short, I think that the documentation is up to date, and the problems that I have experienced have been minor, and all of them were my fault.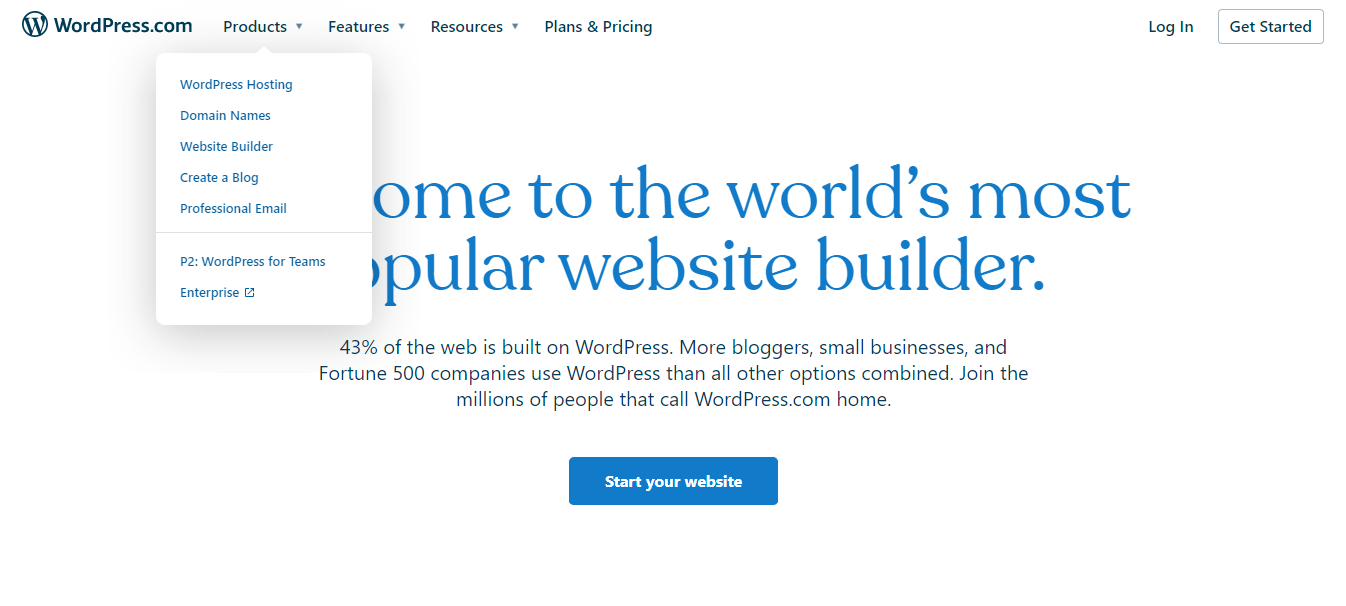 Cons of WordPress.com
There are some limitations of free WordPress.com that distinguish it from WordPress.org.
Some cons of using WordPress.com are as follows:
They place ads all over the site for free. Your users see these ads and you do not profit from them. If you don't want users to see their ads, you can upgrade to a paid WordPress.com plan (starts at $48 per year).
You are NOT allowed to sell ads on your site, which greatly limits your monetization ways Places. If you run a high-traffic website, you can sign up for their advertising program called WordAds, where you share the revenue with them. Only Premium and Business plan users can access to WordAds.
You even don't get the ability to participate in or make any revenue from affiliate marketing/links while you are using a free plan of wordpress.com.
Limited Options of Customizations:
You cannot download plugins. Free plan users get pre-activated Jetpack features. Enterprise plan users can install from a range of compatible plugins ($300/year). The WordPress.com VIP program allows you to install plugins and starts at $5000 per month.
You are not allowed to upload custom themes. Free plan users can only install from a limited collection of free themes. Premium and Business plan users can also choose premium themes. There are limited customization options for the free version. Premium and Business plan users can use custom CSS.
Site Identity Limitations:
Free WordPress.com website comes with a WordPress.com branded subdomain (ex: https://yourwebsite.wordpress.com). This indicates that your website is hosted on WordPress.com and has a free plan which shows that your website is not a professional one. You'll need a paid plan to get a custom domain name (example: https://www.yourwebsite.com).
On top of it, they can take your site down at any time if they think it's illegal to violate their terms of use. Your website will display powered by a WordPress.com link. It can be removed by upgrading to the Business.
No eCommerce/Membership/Analytics Capability:
WordPress.com plan doesn't offer any integrated eCommerce functionality or payment gateway unless you upgrade to the eCommerce plan.
You are limited to their stats. You cannot add Google Analytics or install another powerful tracking platform. Business plan users can install Google Analytics.
You cannot create a membership site with WordPress.com.
WordPress.org
The main website of "WordPress" is this one which releases updates of WordPress CMS.
For many years, WordPress has been the most popular blogging platform in the world. It's also one of the simplest and most easy-to-use. With a few basic plugins, you can build a completely customized blogging platform for your site. The good news is that there are more than 5,000 different plugins to make your blog look and operate just like you want. The bad news is that many of them cost money, and since WordPress is free, it's tempting to spend $100 or more to get a fancy interface. Fortunately, there are ways to get away without spending a dime.
Pros of WordPress.org
WordPress has the advantage over other blogs because it's the most popular blogging software in the world and it's free. It has thousands of plugins and themes that allow you to customize it to your liking, and after you spend a little bit of time getting comfortable with it, you can build a great blogging platform.
WordPress is easy to learn and use
WordPress is flexible
WordPress allows anyone to develop and launch a blog
WordPress is free and highly customizable
WordPress is simple to use
WordPress is still the most popular blogging software
WordPress isn't completely free, but there are ways to make it free. Read on to learn how to make your WordPress blogging easier.
With WordPress.org, you have complete control over your website because you own your website and all its data. WordPress is free and open-source software, which means you can customize it however you want. And, since you're hosting your site using web hosting and rented servers, you're not subject to WordPress.com's terms of service. You can even display a custom domain name without the WordPress branding on it.
High Flexibility and Customization Options
WordPress.org offers website owners great flexibility when it comes to customization. For example, you can install and use any number of free or premium WordPress plugins and themes to change the visual design and functionality of your website. Generate leads and establish brand recognition with your target audience.
With WordPress.org, you can run ads on your website without sharing the revenue with your hosting platform. It's a great way to make money online passively.
Membership Sites

Generate steady revenue, build a larger email list, deliver more value to your loyal subscribers, and automate some or all of your business processes by creating a membership website WordPress. Sell ​​subscriptions to access your best content, online courses, and more.

Online Store
You can use self-hosted WordPress to build an online store, accept credit card payments, and ship orders to customers from your website. Alternatively, you can use a generator plugin. powerful yet beginner-friendly form, to create a simple directive. training, selling digital products, or even starting a dropshipping business.
You are allowed to feature monitoring scripts like Google Analytics for your hosted WordPress web page without restrictions. This offers you a threat to song critical metrics and makes higher data-pushed choices in your small business.
Cons of WordPress.org
Like all websites, you will need web hosting. However, as your website grows and gets more traffic, the cost of the web hosting plan will increase as expected, but then you will make enough money to cover the cost. You will have to install WordPress CMS on your hosting platform to move forward and start designing/building your website. You can also follow our complete guide on how to properly install WordPress.
Summary
        The main difference between WordPress.com and WordPress.org is the server for your website. With WordPress.org, you host your website and also have full control over your website. Finally, unlike WordPress.org, you cannot customize the look or performance of your site with WordPress.com. The easiest way to think about the difference between WordPress.com against WordPress.org is the analogy of renting a house.
Note: – Don't forget to give you opinions/provide feedback in the comments below.